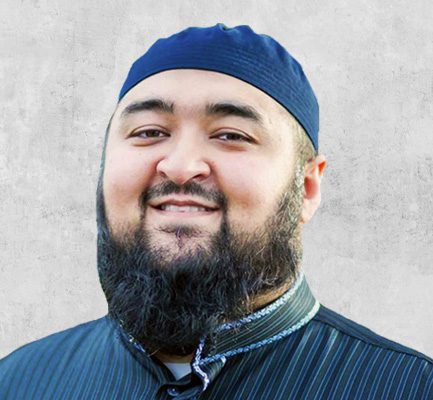 Sheikh Navaid Aziz was raised in Montreal, Quebec where he completed a diplome d'etudes collegiales in Social Sciences from Champlain College. He then proceeded to the Islamic University of Madinah, where he completed an Associate's Degree in the Arabic Language and a Bachelors in Islamic Law in 2008. In 2019 Navaid attained a certificate in Public Relations and Communications Management from Mount Royal University.
Upon returning home to Canada in 2008, Navaid began teaching for Al-Maghrib Institute, the world's largest English speaking Islamic Institute. He has now transitioned to their Director of Public Relations. In 2009 Navaid began his work as a family and youth counsellor. It was also during this time that he established himself as a sought-after public speaker. He has lectured across five continents and over 20 countries thus far.
In 2012, Sheikh Navaid moved to Calgary, Alberta to become the Director of Religious and Social Services for the Islamic Information Society of Calgary, a position he continues to hold. In Calgary, his youth counselling work extended further to include helping in the mitigation of criminal radicalization. This included the creation and implementation of holistic youth programming which encompasses civic engagement opportunities, volunteer programs at the local shelters, community cleanups, tree planting days, blood drives, and other forms of civic involvement.
In 2015, Sheikh Navaid became the first ever Muslim chaplain with the Calgary Police Services. Through his involvement with CPS he consulted on the development of their world-renowned ReDirect program. Navaid served as an expert witness for the British Columbia Supreme Court in the case of Regina V Othman Ayed Hamdan in 2017 and subsequently delved into further research on the subject of radicalization to violence. In 2018, Navaid also joined the Organization for the Prevention of Violence in Alberta as a Programming and Intervention Coordinator.