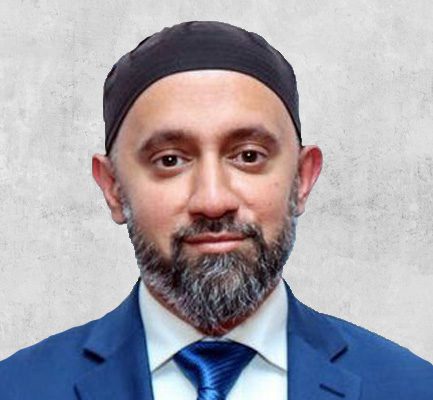 Imam Khalid Latif is the University Chaplain for New York University and Executive Director of the Islamic Center at NYU.
He was appointed the first Muslim chaplain at NYU in 2005. He was also appointed the first Muslim chaplain at Princeton University in 2006. Spending a year commuting between these two excellent institutions, he finally decided to commit full-time to New York University's Islamic Center where his position was officially institutionalized in the spring of 2007. Under his leadership, the Islamic Center at NYU became the first ever established Muslim student center at an institution of higher education in the United States.
Imam Latif has not only managed to solidify the basis of a strong Muslim community at NYU that seeks to emphasize inclusiveness and understanding of others without compromise, but has also worked tirelessly to foster dialogue with people of other faiths in order to clarify misconceptions and encourage mutual education.  His work has brought him to share stages with the likes of Pope Francis and the Dalai Lama, and many grassroot movements and diverse communities throughout the world, especially those who are underserved and underprivileged.  He has visited numerous refugee camps, conflict zones, natural disaster sites, and internally displaced populations and has helped to raise millions of dollars in humanitarian relief over his career.   Through his work Imam Latif has demonstrated not only an exceptional dedication to gaining and disseminating religious knowledge and values, but has begun to carve out a much-needed space for young American Muslims to celebrate their unique identity and have their voices heard in the larger public sphere.
He is also the co-founder of Honest Chops, the first-ever all-natural/organic halal butcher in NYC and its spinoff restaurant Burgers by Honest Chops, the Muslim Wedding Service, an agency specializing in providing charismatic and inspirational marriage officiants for wedding ceremonies, and a partner in the MKO Group, an investment group that owns and operates multiple Edible Arrangements franchises in Manhattan. Each of these ventures was started to help generate revenue to assist people in need.
In 2019, Imam Latif co-founded and became the board president of Pillars of Peace, a non-profit established in order to address a gap in appropriate services for survivors of domestic and gender-based violence from all backgrounds and in particular within the Muslim community.  Pillars completed a successful $1M capital campaign for "The Noora House", an emergency confidential shelter for women and children, in less than two weeks and is expected to open in the Spring of 2022.
Imam Latif is a sought after speaker, having been invited to share his insights and experiences to diverse audiences all over the world.  He has been featured in numerous media outlets including the Huffington Post, BBC, NPR, CNN, the New York Times, New York Magazine, The Colbert Report, Katie Couric, Newsweek, Time, BET and GEO TV. He has been named a Global Interfaith Visionary by the United Nations Temple of Understanding (2010), one of 100 NYC Luminaries by the New York Public Library (2011), one of the 500 most influential Muslims in the world by Georgetown University's Prince Alwaleed Bin Talaal Center for Muslim-Christian Understanding and The Royal Islamic Strategic Studies Centre (2009 & 2010), a Millennial Leader for Social Justice by Auburn Seminary (2011), listed to the Christian Science Monitor's "30 Under 30" list (2012), a Hollister Award recipient for his outstanding work in the Multi-faith World (2012), a Brass Crescent Award for Best Writer for his award-winning "Ramadan Reflection" series for the Huffington Post (2012 & 2013), a distinguished alumni service award from New York university (2014),  a "New NY Abolitionist" for his work around trafficking and forced marriage (2015), named to the inaugural "Mic 50" list by Mic.com, a celebration of the next generation of impactful leaders, cultural influencers, and breakthrough innovators from around the world (2015), received an Honorary Doctorate of Theology from Washington & Jefferson College (2016), the MLK Humanitarian Award from NYU (2017), a Distinguished Alumni Award from the Wardlaw + Hartridge School (2018), an Outstanding Alumni Award from NYU's Division of Student Affairs (2019), a Faith & Social Justice Movement Honoree by Sojourners (2019), an awardee of the Global Center For Muslim Life (2020), and most recently an inaugural honoree of the Eid Collective (2021.)